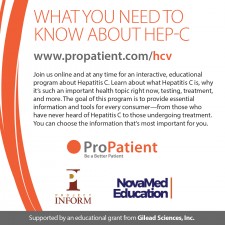 Free Online Program on Hepatitis C Provides Powerful Resource for Consumers
Hillsborough, NC, November 28, 2016 (Newswire.com) - ProPatient, a provider of interactive online patient education tools, has teamed up with NovaMed Education, a provider of education for healthcare professionals and patients, and Project Inform, a health education and healthcare access organization, to develop a unique and interactive online resource about the hepatitis C virus (HCV) for consumers.
The program, entitled "What You Need to Know About Hepatitis C," provides essential information and tools for all consumers, from those who have never heard of the disease to those undergoing treatment for it. It also includes strategies and best practices for communicating with healthcare providers.
"In HCV, we have an opportunity to make a rapid and profound public health improvement in the US," noted Kate Evans, President of NovaMed Education. "The disease is underscreened and undertreated, and can cause serious illness and death if it's not managed. But the enormous progress made in screening, evaluating, and treating the disease over the last several years has provided the tools needed to address and eventually eradicate the disease. This patient education program is one part of our broader educational initiative that provides real-world practical guidance to both patients and healthcare professionals."
"HCV can now be cured in the vast majority of patients, even those with advanced disease," said Andrew Reynolds, Hepatitis C Education Manager at Project Inform. "Knowing the facts about HCV can help you make more informed decisions about getting screened, how to work with your healthcare provider, and what to consider if you are diagnosed with HCV."
"The interactive format allows viewers to select what information is appropriate for their specific needs," said David Hadden, Co-Founder and Chief Game Changer at ProPatient. "This program creates a highly interactive experience. It's like a simulated conversation with a virtual doctor. Actual doctor visits are rarely long enough to get all your questions answered, so this type of program can help fill in the gaps."  
HCV is the most common bloodborne viral disease in the US, and it can lead to serious, chronic problems including cirrhosis (scarring of the liver) and liver cancer. The disease can be asymptomatic for many years and frequently goes undiagnosed until an infected patient has severe illness. Each year, over 35,000 Americans become infected with HCV. At least 3.5 million people in the United States have chronic HCV, and the majority of them are unaware they have the infection.
The patient program and the associated activities for healthcare providers are free for all participants, and were made possible by an unrestricted educational grant from Gilead Sciences, Inc.
Source: ProPatient
Share: