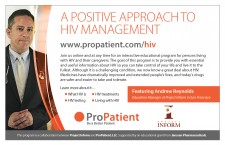 Powerful patient education available free online for people diagnosed with HIV.
Hillsborough, NC, December 21, 2016 (Newswire.com) - ProPatient, a provider of interactive online patient education tools is teaming up with Project Inform, a health education and health care access organization, to develop a unique and interactive online resource which helps to inform people managing HIV.
HIV stands for human immunodeficiency virus. If left untreated, HIV can lead to the disease AIDS (acquired immunodeficiency syndrome). HIV attacks the body's immune system, specifically the CD4 cells (T cells), which help the immune system fight off infections. If left untreated, HIV reduces the number of CD4 cells (T cells) in the body, making the person more likely to get infections or infection-related cancers. Over time, HIV can destroy so many of the cells that the body can't fight off infections and disease. No effective cure for HIV currently exists, but with proper treatment and medical care, HIV can be controlled. 
"At Project inform, we believe it is possible to create the first generation free of HIV within the next decade. To achieve that dream, we focus our work in four areas: drug development, bio-medical prevention, health care access, and education," said Andrew Reynolds, Health Educator at Project Inform. "We provide up-to-date, life-saving information to help people living with HIV make the best choices regarding their treatment and care. Today's treatments are very effective, and many people can live near-normal lifespans. This program will help you understand HIV." 
"The main focus of our project is to let people know that they can live well with HIV. It may take some time for that message to sink in because adjusting to the diagnosis will have emotional challenges as well as medical ones," said JoAnne Schaberick, Co-founder of ProPatient.com. "Our program assists those managing HIV and their caregivers by virtually simulating both a support group and a doctor visit in the comfort and privacy of your home."
The program entitled, "A Positive Approach To HIV Management," is an interactive educational module for persons living with HIV and their caregivers. It provides essential and useful information about HIV, testing, HIV treatments, and how to manage social situations.
Source: ProPatient
Share: